Monolith continues to strive to bring the very best technical solutions to our clients, working with manufacturers directly to build better systems.
From June 8 to June 14 we had a wonderful chance to reconnect in person with so many friends and colleagues at the InfoComm 2019 in Orlando, FL and came back with a better sense of the industry direction and  trends.
Tech trends
AI and Automation
The future of room control and collaboration is in AI based solutions. Complex programming will make way for machine learning, natural language processing and simple commands that allow room AV to be smarter and simpler to use.
Analytics
When it comes to tech investments, companies are increasingly interested in how technology investments are panning out for their business. As business leaders invest more heavily in collaboration, digital signage and meeting technology, Digital AV companies are stepping up their efforts to aggregate and analyze user data to see how well their products are performing in a variety of fields and metrics with the aim of improving service and product quality.
Cloud
Companies are aggressively moving toward hybrid IT infrastructures and are looking for cloud friendly, high scale applications that are flexible but also manageable in the Cloud.
Everything from room management to video conferencing and streaming work better when Cloud enabled and provide IT the flexibility they desire.
Unified Communications (UC)
UC is a set of products that provides a consistent unified user interface and user experience across multiple devices and media types.
UC is the business and marketing concept of integrating enterprise communication services such as instant messaging (chat), presence information, voice (including IP telephone), mobility features (including extension mobility and single number reach), audio, web & video conferencing, fixed-mobile convergence (FMC), desktop sharing, data sharing (including web connected electronic interactive whiteboards), call control and speech recognition with non-real-time communication services such as unified messaging (integrated voicemail, e-mail, SMS and fax).
Unified communications as a service (UCaaS)
A category of "as a service" or "cloud" delivery mechanisms for enterprise communications. Similar to platform as a service (PaaS, where data center capacity is made available to an enterprise on a consumption model from a service provider), with UCaaS, unified communications services can be made available from the cloud to businesses from SMB to enterprise.
UCaaS is part of a global industry trend towards cloud services, also known as digital transformation.
SOME OF THE BOOTHS WE VISITED AT INFOCOMM 2019

Atlona showed a collection of new products designed for collaborative spaces, conference rooms, entertainment spaces, and lecture rooms. Featured technologies and product solutions included: Atlona OmniStream – AV over IP distribution; Velocity IP-based control platform; BYOD switchers; HDMI switching, extension and distribution; plus, Presentation Switchers featuring HDBaseT, 4K/UHD capabilities and HDCP 2.2.
Ken Eagle, Sr. Director of Global Training, provided a booth tour of Atlona and Panduit's innovative solutions for 2019, live from the InfoComm show floor.

Barco showed weConnect Active Learning Platform With Virtual Classrooms, the LED XT series video wall and the ClickShare Desktop App.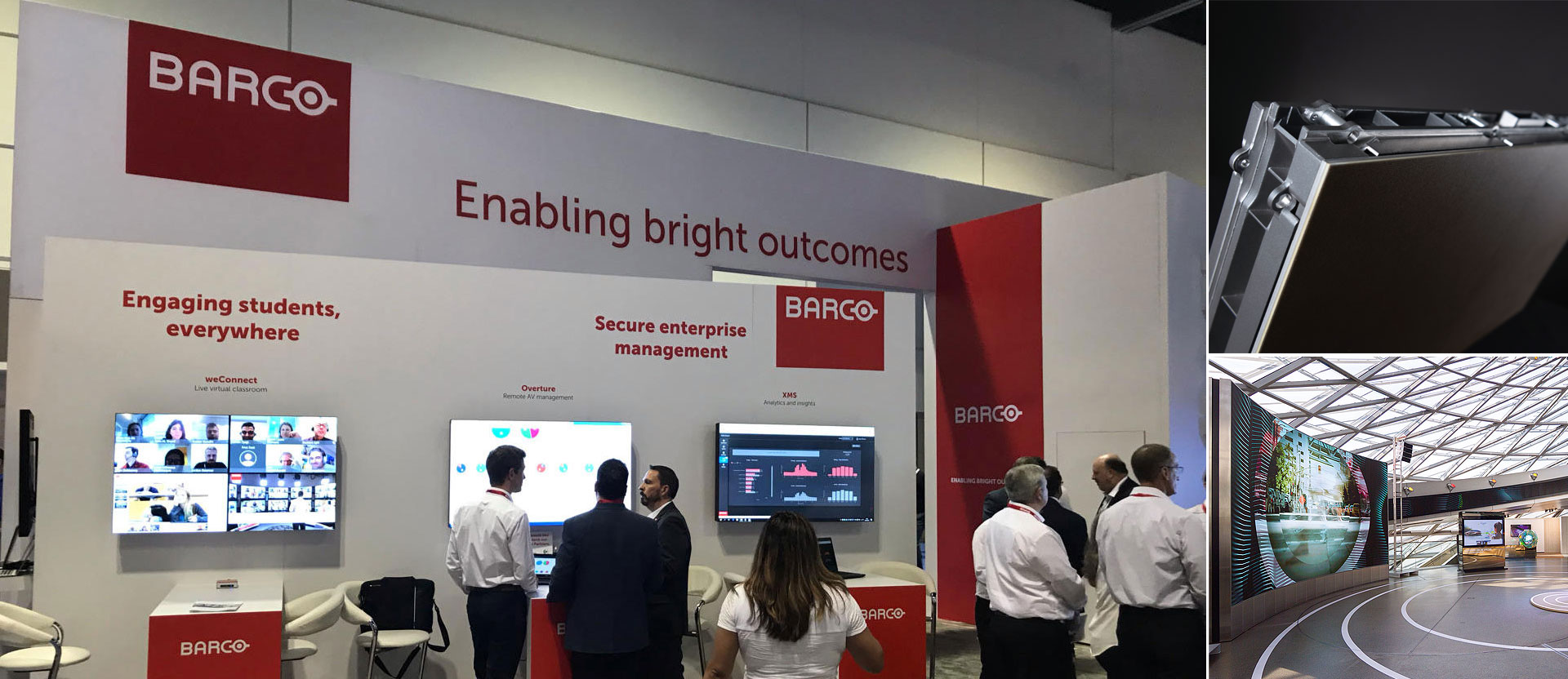 The booth was filled with broadcast-related technologies. At InfoComm 2019 Blackmagic Design debuted the new HyperDeck Extreme 8K HDR — capable of recording and driving 8K content to any display.


The Crestron Electronics booth was structured like a walking tour through its many category products. This year its focus was on Crestron DM NVX with Pixel Perfect Processing.
Just Add Power featured the Dante 767Dss 4K HDMI Transmitter from UltraHD AV-Over-IP Line (Winner of Commercial Integrator 2019 Best in Audio Distribution Systems Category). In addition to distributing Ultra HD and 4K video over a Cat-5e cable, the 3G+ 767DSS transmitter adds compatibility with Dante and AES67 audio networks, with separate switching of audio and video. The transmitter is the first to support the latest Dante chipset for the delivery of 8×8 channels.

At InfoComm 2019 Lenovo announced the latest addition to their smart office portfolio – ThinkSmart Hub 500 for Zoom Rooms.

On Oct. 1, 2019 Hitachi will become Maxell.
The Optronics Division of Maxell, Ltd. announced that beginning as of Oct. 1, 2019, Maxell, Ltd., through its U.S. subsidiary, Maxell Corporation of America, will assume responsibility for all operations related to both Hitachi-brand and Maxell-brand projector products and accessories in the North American market. This announcement marks the culmination of a six-year progression that began with Maxell, Ltd.'s acquisition of Hitachi Consumer Electronics, Co., Ltd.'s projector design, development and manufacturing assets and resources in 2013.
At InfoComm 2019 MaxellProAV featured MP-WU5603 6000-Lumen 3LCD WUXGA Laser Projector.

Panasonic had a lot of products across many categories to fill its large InfoComm 2019 booth. One of them was, as they called it, the "world's smallest and lightest" portable LCD laser projector.

Peerless-AV featured a maintenance-free, year-round solution, Xtreme™ High Bright Outdoor Displays with a fully sealed IP68-rated design (the highest environmental rating in its class), full HD 1080p resolution for a bright, crisp picture, 2500 nits of brightness to combat high ambient lighting conditions, and IK10-rated safety glass for the ultimate screen protection.

At InfoComm 2019 Rane Commercial Unveiled the New 1RU Zone Power Eight Amplifier.

Now well-established as the parent company of Harman, Samsung featured a jaw-droppingly-large video wall.

Sharp's booth was structured like a physical office. The focus was on office technology and the challenges around communicating, collaborating and connecting. The solution aims to help customers create more efficient meetings and, in its booth, Sharp demonstrated how the product can booth intuitive collaboration and sense and report on the room's temperature, lighting and air quality.

Wyrestorm Showed NetworkHD 250 Multiviewer, NetworkHD Touch App for Source Control.