Since 2017 integration firms generally got bigger due to acquisitions and organic growth. Most of those companies are largely funded by venture capitalists that want to see return on their investments, which essentially means geographic expansion around the world. Global clients are now pushing global solutions and projects. The Pro-AV industry has evolved from local and regional, to national and, most recently, global in scale and scope.
The differences between domestic, international, and global companies
Domestic (National) firms operate mostly or completely within the United States. They may import supplies or export products, but these activities normally represent a comparatively small share of total business activity.
International firms are headquartered in the United States but maintain significant investments outside the country and have geographically diverse profit centers.
Global firms have significant investments and profit centers in many countries, with no single center of dominance. The most likely scenario will be partnerships.
The central benefits of a global company is a greater impact, wider market, and cultural receptiveness. The clients are commonly multinational organizations with offices and personnel around the world.
Doing business internationally is not the same as doing business at home
AV integration companies seeking global expansion have a lot on their plates. Language and cultural differences, tax regulations, and trading requirements, governance, risk and compliance issues, and poor execution are all common challenges that businesses face.
In addition, the problems organizations face due to mergers and acquisitions could be devastating. Differences in systems and processes can make the business combination difficult.
Most takeovers result in two organizations becoming one. When companies merge, the process disrupts operations and activities in both organizations. Some of the challenges include different technologies and no plans to merge them, absence of a centralized database, inaccurate client lists, extended reaction times and mismatch in prices. Other issues include quality assurance, standardization, organizational structures, corporate cultures and relationships with vendors.
Creating common procedures and productive relationships is complex process that can take several years.
The current business climate
In business theory, a disruptive innovation is an innovation that creates a new market and value network and eventually disrupts an existing market and value network, displacing established market-leading firms, products, and alliances.
This is a fitting description of what happened in the AV industry over the last several years.
Large companies continue to grow, creating a giant gap between the biggest, the big, and all of the rest.
In addition to the traditional AV integrators, the list of companies providing AV integration services now include companies from adjacent industries, such as low-voltage electrical, HVAC and mechanical, IT services, and hospitality. They offer complementary AV integration services, while cross-selling their services to a new AV client base.
Some companies have several locations but are not truly national, international or global. They are managing their customer's resources worldwide through a just a few central office locations. Rather than opening an office in each market they wish to serve, they contract the physical installation work out to a local firm that already has the means to manage the labor required to complete these projects and only send in a small team of employees to manage the project, work with the client, and implement the software tools for managed services at the end of the job.
To be able to compete and to preserve their local control increasing numbers of small and midsize companies are joining corporate giants in striving to exploit international growth markets or in trying to become world-class even if only to retain local customers.
In the past years we have seen multiple AV integration companies go out of business or get bought out by larger companies and then downsized. Manufacturers have downsized as well and relationship with them got complicated.
Anyone can purchase AV equipment anywhere
Prospective integration customers read online all about simplicity and ease of installation and promises of lower costs. The marketing, however, doesn't tell the entire story of how well these systems can address the customer's unique challenges without the benefit of consultation and custom integration.
What's happening in the race to simplicity and plug-and-play is actually doing a disservice to the users. In some cases the end user does not feel they even need a commercial AV integrator, and they buy equipment online to have their facilities personnel install it.
A lot of people do not know what professional integration firms do
To be capable of completing AV integration correctly (to do something that appears as simple as hanging a TV on the wall) professional integrators need broad spectrum of knowledge — electrical, acoustical, electronic, visual, audible, communications and more.
Anyone can purchase AV equipment anywhere, but AV professional integrators determine the outcome. He or she gets all of these diverse technologies to work together and enables seamless control of all devices from a single interface.
Having a professional systems integrator work to integrate all of your audio/visual equipment will help to make your business's technology user-friendly and provide you with the support you need if problems arise.
Shift from product-based to service-based model
There's been a shift in the AV industry. We used to talk about products. Now we talk about technological solutions. The difference is that a product provides a function while a solution creates a user experience and provides a service. Products that don't function well together simply don't create the exceptional experience consumers are looking for.
Companies that once sold products are completely changing their business model. It is called managed services solutions: SaaS (Software as a Service) and Haas (Hardware as a Service). Think of the as-a-service model in terms of bundling together the hardware, software, services and support and then charging clients a flat monthly fee for the entire bundle.
It's not surprising that the large national and international AV firms funded by venture capitalists pursue managed services contracts to increase their companies' value by locking up service. Some firms sell service contracts along with systems contracts. The downside is – not every customer is going to want or need everything in the suite of services.
Anyone who runs an AV Integration business today knows that things are different than they used to be
Not long ago, manufacturers (both large and small) worked directly with the commercial AV integrators. All the big companies had factory sales people that called on integrators, trained them on current and new products, and even made sales calls with them. They were the source of information, provided application engineering as well as demo support. Smaller manufacturers used a network of independent reps in regions throughout the country.
Today, as products get cheaper, even large manufacturers can no longer afford full time sales people in the field. They sell to the distributor and then the distributor (focused on providing efficient order fulfillment with little or no support) sells to the dealer in turn.
So, what do you do if the newest, greatest, product you bought is not working as promised or not working at all?
A key component of making all the pieces fit and work properly together is the support provided by the manufacturers whose products are designed and integrated into pro AV systems. The integrators still need support from the manufacturers. If the product you bought does not work you may have to contact the manufacturer directly for tech support. Regardles of the type of manufacturer (national, international or global) your calls may be answered in a call center facility, or by a machine in a distant location. Often you will have to repeatedly explain your problem to multiple support personnel to little or no avail. It is a fact of life that the AV integration industry could use some more support from manufacturers.
Our new reality
Waves of mergers and acquisitions and tech progress in recent years changed the face of the AV industry. Many audio-visual integration companies as well as manufacturers are part of financial portfolios or large corporate structures. That arrangement allows firms from different fields offer audio-visual services as a part of the business package. Manufacturers sell products directly to the users who make purchasing decisions based on price and marketing statements that often include words 'international', 'world class' or 'world wide'.
To stay competitive a lot of AV integrators right now are consolidating under a single umbrella, expanding their office locations, and looking for more IT based managed service solutions. As a result many of them are in a period of transition from local and national to international and global. Sweeping changes in the competitive landscape, including the presence of foreign competitors in domestic markets, are driving businesses to rethink their strategies and structures. To be able to compete and to preserve their local control increasing numbers of small and midsize local companies are joining large corporations.
AV blended with IT and became more corporate in terms of doing business. In many instances smaller projects are overlooked, customer services are outsourced, tech support is insufficient and levels of service vary with each of the AV integrators.
What does it mean for you
If you are a local business that hired a large firm to design and install an audio-visual system for you, you can end up with an expensive annual or multi-year service plan contract. The provider may not be familiar with your organization or business and may not understand your long-term goals or business objectives. In case you have a problem after installation your customer support calls may be answered in a call center facility, or by a machine in a distant location. You could have to repeat your problem to multiple support personnel and wait long time for an available technician in your area.
If you are a local business you will be better off hiring local AV company.
The central benefits of a local AV company is a clear focus and more personal approach. It is much easier to grow a relationship with a local, face-to-face business than an international, online company.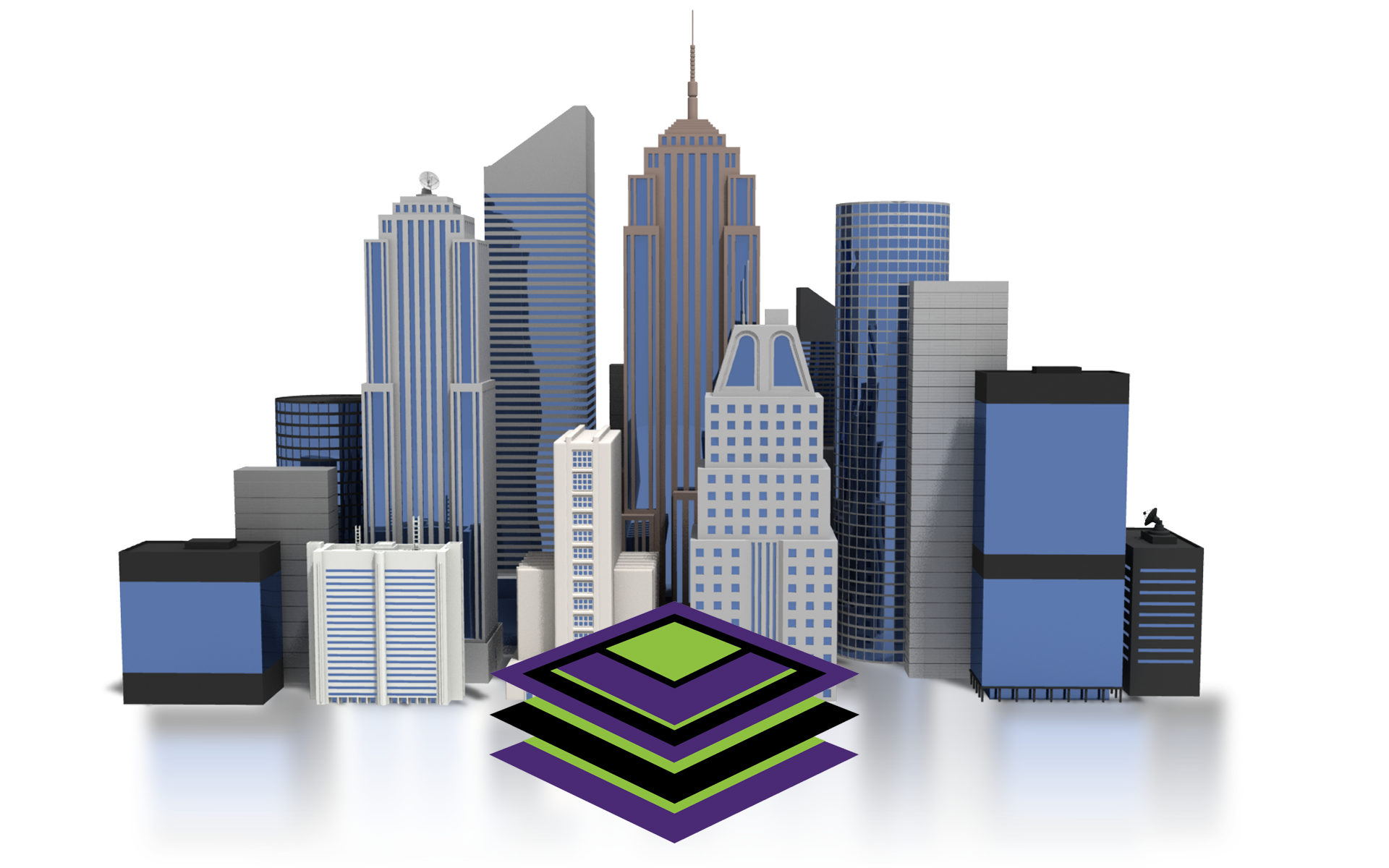 If you are looking for the audio visual premier design-build systems integrator located in New York City, Monolith Modular Systems Inc. will partner with you to help you achieve your long-term goals.
Calls are answered by a live person in our New York City office. You will find that our intelligent and efficient staff is easy to work with. We pride ourselves in the ability to quickly address the most difficult challenges with professional dedication.
We are committed to the success of every project we engineer, design and are involved with. We efficiently define your requirements and provide recommendations based upon needs and scope of each project. We have the staff with extensive experience to handle installations of any scale or size.
Custom AV Solutions for Your Business
Monolith Modular Systems Inc. is not tied to one company or one manufacturer, so we are able to work with many different companies to find the absolute best audio visual solution for your needs. Having a limited selection won't provide you with the best sound and video because that also limits the integration abilities. Our goal is to find what blend of products works best for your space and needs with a custom-designed set of audiovisual equipment that's high quality, easy to use and sets you up for success.
Expert Advice On What Your Business Needs
If your expertise in not in the audio/visual world, it can be difficult to figure out what technology and equipment your business really needs. This is where a Monolith Modular Systems Inc. comes in. We can analyze your space, what purposes the technology needs to serve, and what would help your business succeed. We offer professional consultations at no cost and provide you with advice on what equipment would be worth investing in to give you the capabilities and experience you're looking to create.
Professional AV Installation
When it comes to installation, making sure all of your audio visual equipment is set up correctly and in a way that maximizes its sound and video capabilities can be difficult. At Monolith Modular Systems Inc. professional systems integrators are trained specialists who can work with the different components of your system to bring you the highest quality audio and video experience.
Continual Technical Support and Maintenance
Once your system is installed and integrated correctly, there are bound to be times you experience technology glitches or need to have equipment parts replaced. Working with a company like Monolith Modular Systems Inc. provides you with ongoing technical support and an experienced maintenance team that can diagnose equipment problems and replace components as needed.
For all your AV needs contact us today at (212) 947-2253.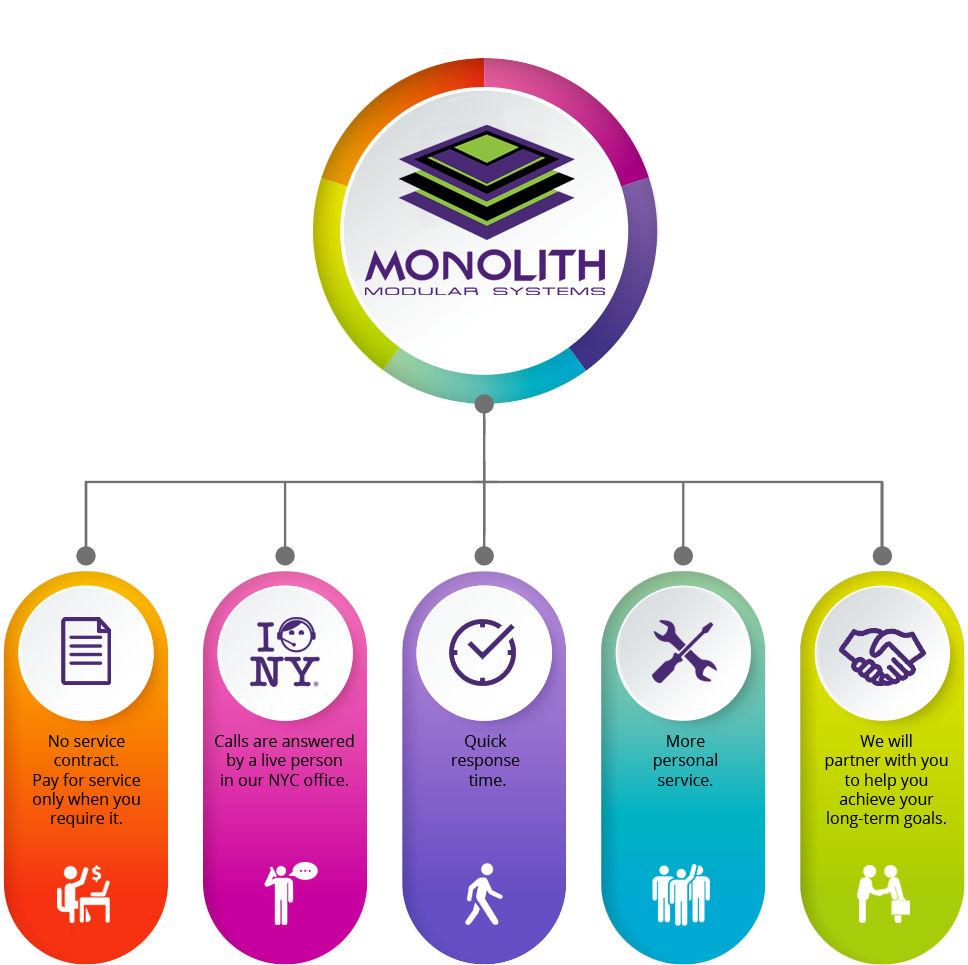 Read More
What stands Monolith Modular Systems Inc. out from the crowd
See if the Monolith Modular System Inc. is a good fit for your project
Related Links
Merger and Acquisitions activity in the AV Integration Industry
Mega Integrator vs. Small-Sized Systems Integrator